Field Methods in Archaeology
May 30-July 8, 2016 the University of Maryland's Department of Anthropology and Office of Extended Studies will offer a Field Methods in Archaeology course. The field school is directed by Dr. Mark P. Leone, with the assistant directors Tracy Jenkins and Kathryn Deeley.
Program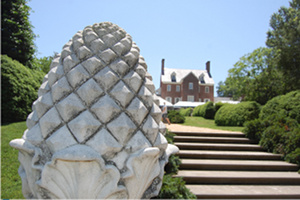 This intensive, six-week field school devotes eight hours daily to supervised archaeological fieldwork, laboratory work, stratigraphic analysis, technical drawing, writing and interpretation. The summer 2016 excavations extend a long-term program of public archaeology in Marylandís state capital that is supported by the Mayor and City Council of Annapolis. This year, excavations will be conducted at an eighteenth-century manor house in downtown Annapolis and in the Town of Easton, Maryland.
Skill development will focus on: soil identification and description; accurate record keeping and photography; artifact identification and cataloguing; understanding of site formation processes and reconstruction of site stratigraphy; basic surveying and mapping; elements of site report production (e.g., background historical research, reconstruction of site stratigraphy, production of unit summaries and familiarity with professional standards and guidelines for conducting and reporting on fieldwork and laboratory analysis); and public interpretation through participation in the AiA Blog.
Field Trips
We will periodically take time out of the excavation to tour other historic and archaeological sites related to the excavation. These will include a selection of sites excavated to date by Archaeology in Annapolis throughout the quarter-mile historic district of Annapolis to place this summer's dig within the context of the broader project and its goals, research design, and accomplishments. During our time in Easton, we will also tour sites in Talbot County, Maryland, relating to local history and our efforts there as part of The Hill Community Project.
Summer 2016 Excavation Sites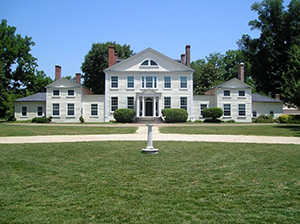 This year, excavations will be conducted in two locations: at the John Brice II House in downtown Annapolis and in the town of Easton, in a neighborhood called The Hill that has been home to a free African-American community since the late 18th century.
The excavation in Annapolis will focus on the living and work space of enslaved Africans in one of Annapolis' elite households. The stories of these men, women, and children are little told but they left material traces of their lives and their efforts to defy their enslavement, often obtaining personal goods and practicing African spiritual beliefs and traditions that laid the basis for modern African-American religion. In Easton, students will be active participants in a public archaeology project, which itself is part of a larger interdisciplinary research project dedicated to preserving the physical and cultural heritage of the free African American community in Easton, dating back to the late 18th century. Here, we will look at communal spaces and how they were used to fuse people into a community and to fight for social justice.
Lectures
Orientation and introductory lectures will be delivered by Dr. Mark P. Leone, Tracy Jenkins, and Kathryn Deeley. They will explain the field schoolís relationship to the larger Archaeology in Annapolis project, discuss the broad research goals of the projects, the theories that inform them, and how archaeology is used to achieve these goals. Throughout the course, project-specific goals are linked to major research themes and issues in historical archaeology. There will be lectures on excavation techniques, note taking, recording, drawing and artifact identification and analysis. Basic laboratory skills will be taught in a field lab conducted during the excavations, so that students can gain concurrent lab experience with the materials they will be excavating.
Students are responsible for reporting to the site each day and contributing to the field work, lab work and ensuing discussion as each progresses. Students will complete weekly reading assignments that address the methods and theories of recent historical archaeological research. Readings will familiarize students with the history of Annapolis and the Chesapeake, with the site-specific histories of the areas under investigation, and with the accomplishments and discoveries produced in the course of the past 30 years spent excavating in the City of Annapolis. Students will gain a tangible appreciation for the contribution of historical archaeology to a fuller understanding of the past, whether it be associated with the 18th-century elite, their enslaved labor force or the lives of 19th- and 20th-century craftspeople, laborers, and their families. Students will review their assignments at a weekly discussion led by project staff. There will be weekly site seminars where students will share progress in their excavation unit with others so that an understanding of the whole is always in sight.
Enrollment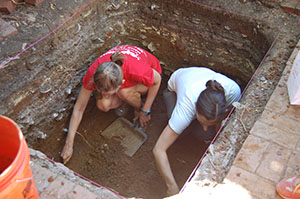 Enrollment is limited to 20 students at either the graduate or undergraduate level. While there are no formal prerequisites for the field school, at least one introductory course in archaeology is recommended (at the University of Maryland, this would be ANTH240, Introduction to Archaeology). Physical ability to engage in field work is essential, and any student currently in good standing at a college or university is eligible to apply.
Interested students must register for either ANTH 496, Section XI11: Field Methods in Archaeology (six undergraduate-level academic credits), or ANTH 696, Section XI11: Field Methods in Archaeology (six graduate-level academic credits). Admission and registration materials are available through the University of Maryland, Office of Extended Studies, for students from other universities. In-state tuition is offered to all students.
Additional Logistics
The field school meets daily in the field for approximately eight hours a day, Monday through Friday. The usual schedule is 8am-5pm. However, the daily starting time will probably change over the course of the summer, depending on the weather, and students should be flexible. Students are responsible for their own transportation to the field school site (approximately 60 miles round trip from the University to Annapolis and 120 miles round trip from the University to Easton) and living accommodations in the Washington, D.C./Annapolis area. The teaching staff will facilitate carpooling from College Park, so if you have questions about transportation please do not hesitate to contact us. A waiver of liability will be required by the University of Maryland before a student can participate in field work and/or laboratory work at any of the sites.
Contact Information
For further information, contact:
Tracy Jenkins (
thjenk@umd.edu
)
Mark P. Leone (
mleone@umd.edu
)
Department of Anthropology
University of Maryland
1111 Woods Hall
College Park, MD 20742-7415
301-405-1429