ADVANCED FIELD METHODS IN PUBLIC ARCHAEOLOGY
In the summer of 2014, the University of Maryland Department of Anthropology and Office of Extended Studies will offer a six-week field school in public archaeology. This field school is geared toward students who have already completed an archaeological field school elsewhere and want more experience interpreting the past for public audiences and engaging local communities with the past. The field school is directed by Stefan Woehlke, with assistant director Tracy Jenkins.
A Different Kind of Field School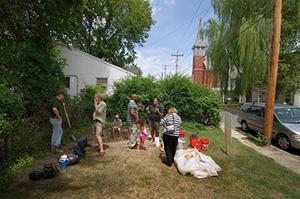 This field school is designed for undergraduate and graduate students who have already completed an archaeological field school and are seeking to expand their understanding of the rewards and challenges of integrating diverse stakeholders into the archaeological process If you have archaeological experience, but have not completed a field school please contact the Instructor for permission.
Public Archaeology is a term that is used to describe an approach that integrates diverse stakeholders into the research process at multiple levels. This course will expose students to public archaeology in two domains, historic house museums and community development projects. Students will be expected to assess the benefits and drawbacks of both approaches, taking into account the interactions between the archaeologists, diverse publics, and related organizations.
In addition to honing skills as an archaeologist, students practice methods of interpreting archaeological findings to the public. This course includes training in public speaking, conveying archaeological information intelligibly, and considering the ways in which archaeology impacts the lives of others. This includes critiques of public interpretations, the role of archaeology in heritage discourse, and the potential for archaeology to mediate competing interpretations of the past.
Archaeology of African American Life from the Antebellum to Reconstruction
Montpelier, the Home of President James Madison, has been the subject of Archaeological research since the 1980s. From June 2-21 2014, this yearís excavation will explore the impacts of Emancipation on the African American community in Orange County, Virginia. The excavation will take place at the site of a late antebellum slave quarter that may have been reoccupied following the end of the Civil War. This presents archaeologists a unique opportunity to understand the effects of Emancipation at both the household and the community levels through the comparison of this site with other late antebellum and reconstruction era African American sites that have been excavated on the property.
African-American Community Archaeology in Easton, Maryland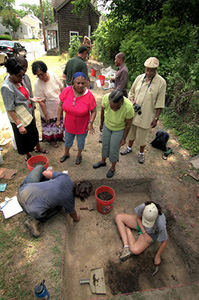 Since the late eighteenth century, a community of free African Americans has lived in and around this urban neighborhood on Marylandís Eastern Shore. They influenced Frederick Douglassí conceptions of freedom as he grew up nearby. Today, the communityís social fabric is threatened by gentrification. At the request of community members, archaeology is part of an interdisciplinary project aimed at using conversations about the past to bring people together to value The Hill Community, its contributions to the Town of Easton, and its ongoing existence. From June 22-July 11, This project works with community members to identify goals for community development and to use public archaeology to meet those goals.
Course Requirements
The field school meets daily in the field for approximately eight hours a day, Monday through Friday. Students are responsible for reporting to the site each day and contributing to the field work, laboratory work and reading discussions. Students will complete weekly reading assignments that address the methods and theories in public archaeology and will discuss those readings and their relevance to Montpelier and The Hill. Students will lead site tours and participate in a discussion with community members about archaeology and our findings in order to apply what they have learned about public archaeology. Writing assignments will include blog entries for the AiA Blog and short essays that integrate the readings with their experiences.
Enrollment
Students may register for either one or both three-week, three-credit sections. We recommend that you take both, for a total of six credits, as the distinct approaches in each section complement each other.
| | |
| --- | --- |
| Montpelier | ANTH 498Y Section XI31 |
| | ANTH 688Y Section XI31 (graduate students) |
| Easton | ANTH 498Y Section XI51 |
| | ANTH 688Y Section XI51 (graduate students) |
Registration for undergraduate Independent Study (ANTH 389A) is also possible. A separate lab methods course will also be offered during Summer Session II (July 14-August 22) in College Park, MD. We are working with both locations to arrange housing at minimal cost for students, but this cannot be guaranteed.
Contact Information
For further information, contact:
Stefan Woehlke: swoehlke@umd.edu
Tracy Jenkins: thjenk@umd.edu
Department of Anthropology
University of Maryland
1111 Woods Hall
College Park, MD 20742-7415
301-405-1429